NagaCorp unveils new images of Naga 3
Cambodian casino operator NagaCorp has released new images of Naga 3, the operator's proposed $3.5 billion expansion of its NagaWorld casino in Phnom Penh.
The images were sent to NagaCorp from Chicago-based Skidmore, Owings & Merrill (SOM), which is the architecture firm behind the new design.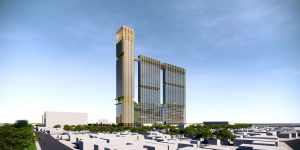 NagaCorp first revealed its proposed Naga 3 development in 2016. It released more details on the project in April 2019 to its shareholders.
In a statement to the Hong Kong Stock Exchange, Naga said the third phase of expansion at its Nagaworld property in Phnom Penh will create the largest "riverine" integrated resort in the world, overlooking the Mekong River in Cambodia, and The Peak Shangri-La.
SOM said that one of the three towers will be "a commanding emblem in the skyline, and the highest point" in the city.
The Naga 3 plans initially included the construction of multiple very tall towers that will boast a "combined 4,720 hotel rooms, and integrated resort non-gaming amenities (shopping, dining, entertainment, conventions, etc.) plus a serious expansion in slots and gaming tables."
The AGBrief said "The resort will be built over a maximum of 544,801 square meters and will feature three hotel towers. It will be linked to the existing Naga 1 and 2 through an underground walkway. The property will feature 90 per cent non-gaming offerings including a three-floor digital entertainment zone."
NagaCorp, before the COVID-19 outbreak, said that it expects 10% annual revenue growth through to the end of 2025.
Do not miss out the opportunity to invest in this exciting city! Check Out the Latest Availability @ The Peak or Contact Us Today!